Southeastern Institute for Manufacturing and Technology:
SIMT from Florence-Darlington Technical College, is a 400,000 square foot facility that will be the hub for advanced technical training for the area in a variety of highly specialized fields. With the combination of Florence-Darlington Technical College's existing resources and the new SIMT, every new industry has a wealth of training and educational resources at their disposal.
What is the rationale and logic behind the creation of SIMT?
Many U.S. manufacturing entities are currently undergoing radical reinventions of themselves. Technological advancements are driving this change. Because much of this change involves new and highly technical equipment, a substantial amount of this manufacturing activity will remain onshore. These new entities will require fewer employees, but they will be highly trained.
A major factor in efforts to recruit these new industries to the Pee Dee area and the Southeast will rest upon the region's ability to provide a highly trained workforce. SIMT is a response to the high level of support needed by area industry.
An extensive marketing study has shown a significant need for technical training throughout the Southeast. In fact, the study found that industries are willing to send workers out-of-state for training and are willing to contract for training from out-of-state entities.
SIMT will provide...
Another economic development asset for the Pee Dee region of South Carolina
A significant support structure for our existing businesses
A source of training geared specifically for high tech manufacturing in the South
An avenue for manufacturing and technical training for surrounding states
A source of revenue to support itself and allow it to operate on its own
---
readySC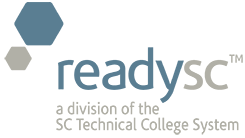 Florence-Darlington Technical College is a member of the South Carolina Technical College System and together, these organizations have extensive resources and success stories. Established in 1961, readySC is one of the oldest and most experienced workforce training programs in the United States. readySC works with companies that are starting up, expanding or relocating anywhere in South Carolina, providing a full range of facilitation services. These include workforce recruiting and testing, curriculum and materials development, customized training and project management. Best of all, readySC services are provided through state tax dollars at minimal or no cost to the qualifying client.